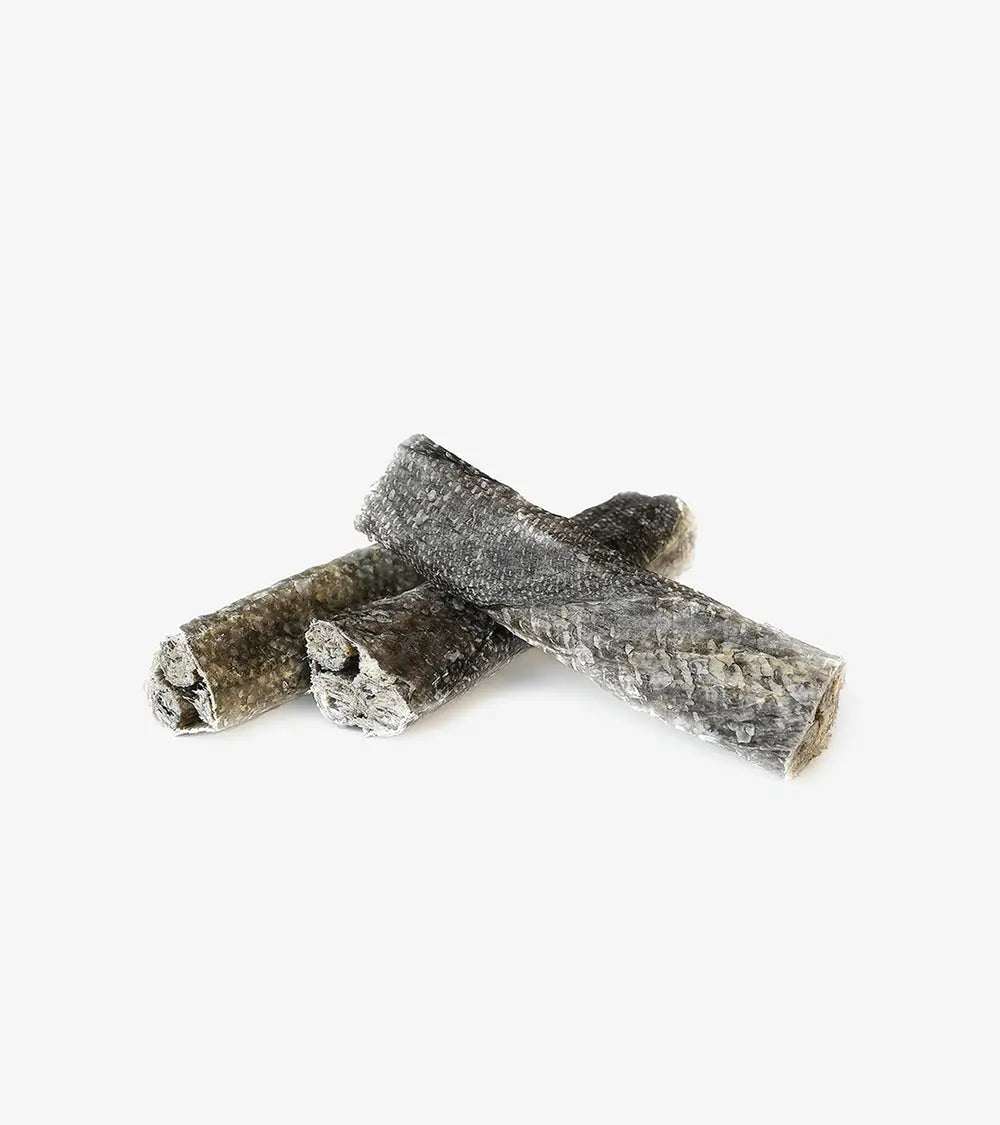 Cod Sticks (2 Pieces)
✔︎ Naturally Air-Dried
✔︎ Without Synthetic Additives
✔︎ Premium Quality
✔︎ Freshly Raw Ingredients
In stock
Treat your pup or kitty to some 100% natural cod skin chewiness with these Cod Chew Sticks! Perfect for pets of all sizes, these crunchy sticks are sure to satisfy even the pickiest pet snacker. Ready to get your chew on? Get your paws on some Cod Chew Sticks today!
High in Omega 3 & 6, these support eye and brain development as well as helping with skin and coat condition. A fabulous taste experience for your darling and an absolute must for all four-legged friends who love fish.
Healthy, nutritious and convenient to feed, our treats are a perfect complementary snack to your pet's raw diet. If you want a healthy, nutritious snack for your canine or feline companion, our air-dried treats are the way to go.
59% Cod Skin, 41% Cod Fillet
| | |
| --- | --- |
| Serving Size | 100g |
| Protein | 74.00% |
| Fat | 3.00% |
| Ash | 17.00% |
| Fibre | 1.00% |
| Omega-3 | 1.00% |
| Omega-6 | 0.12% |
| Omega-9 | 0.87% |
*Disclaimer: every attempt has been made to ensure that the nutritional information provided is an accurate representation of an actual or average as fed analysis of this product.
All of our products come in a handy resealable bag, so you can lock in the natural goodness between feedings. Just store in a cool and dry place, away from direct sunlight! It's that easy!
Suitable for puppies over 12 weeks
Please always supervise your pet while feeding, and make sure fresh, clean water is available.