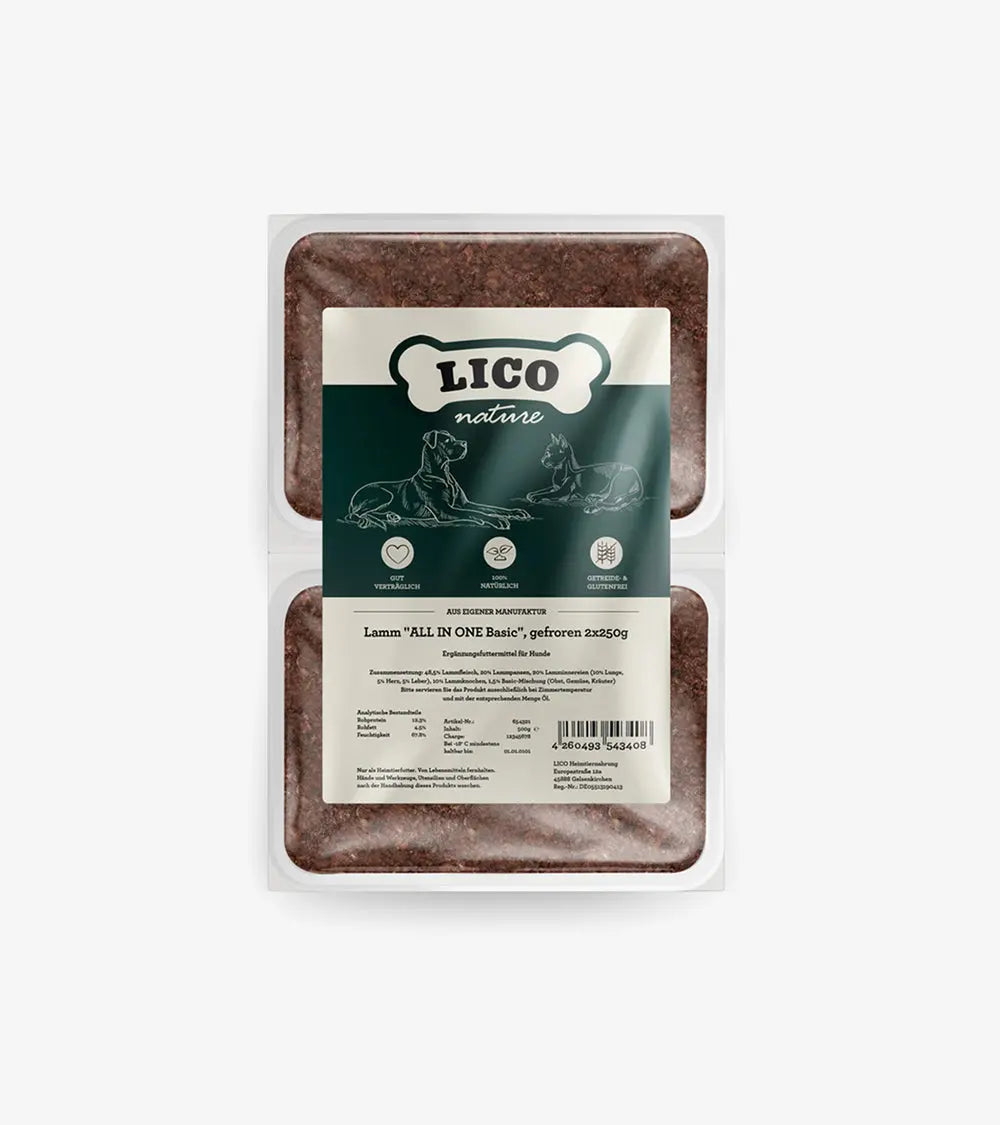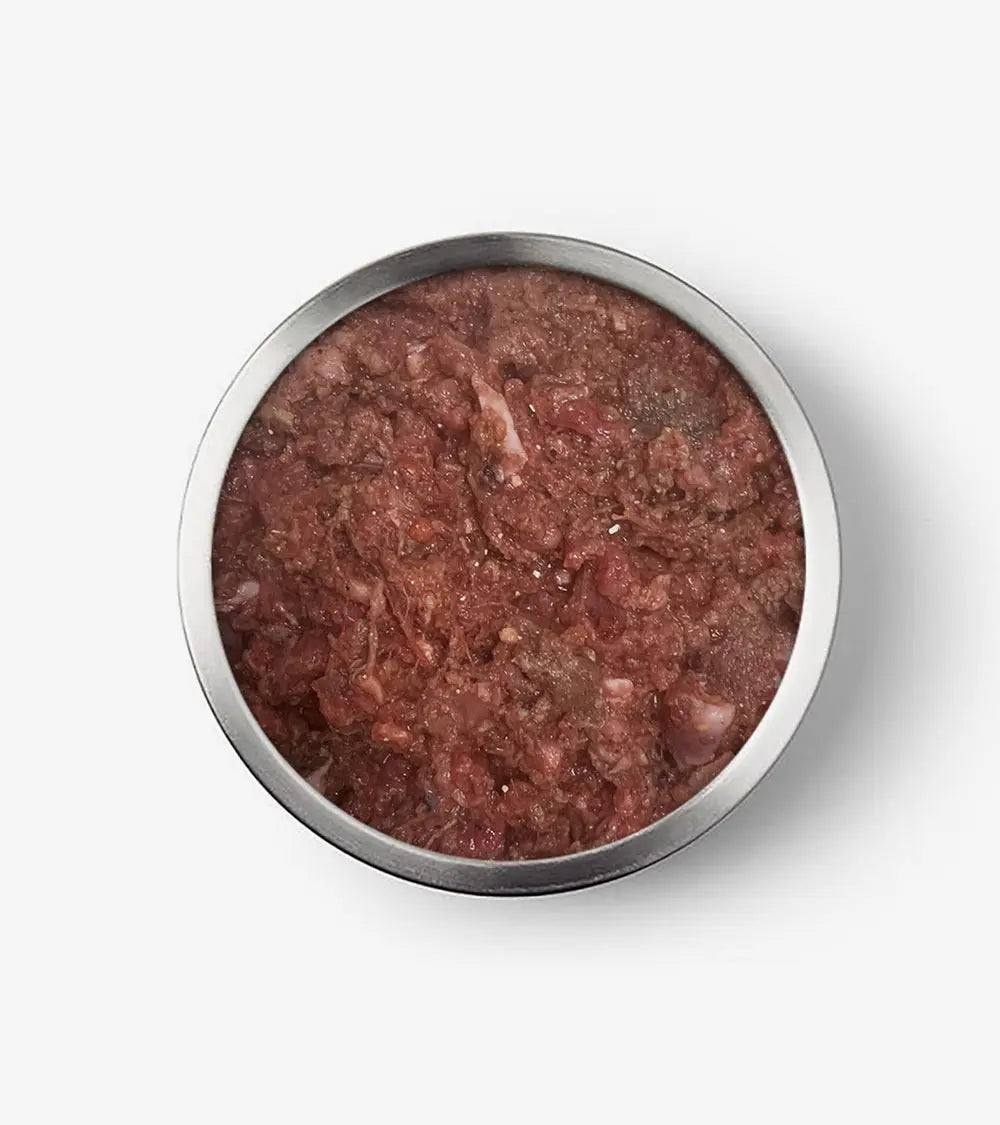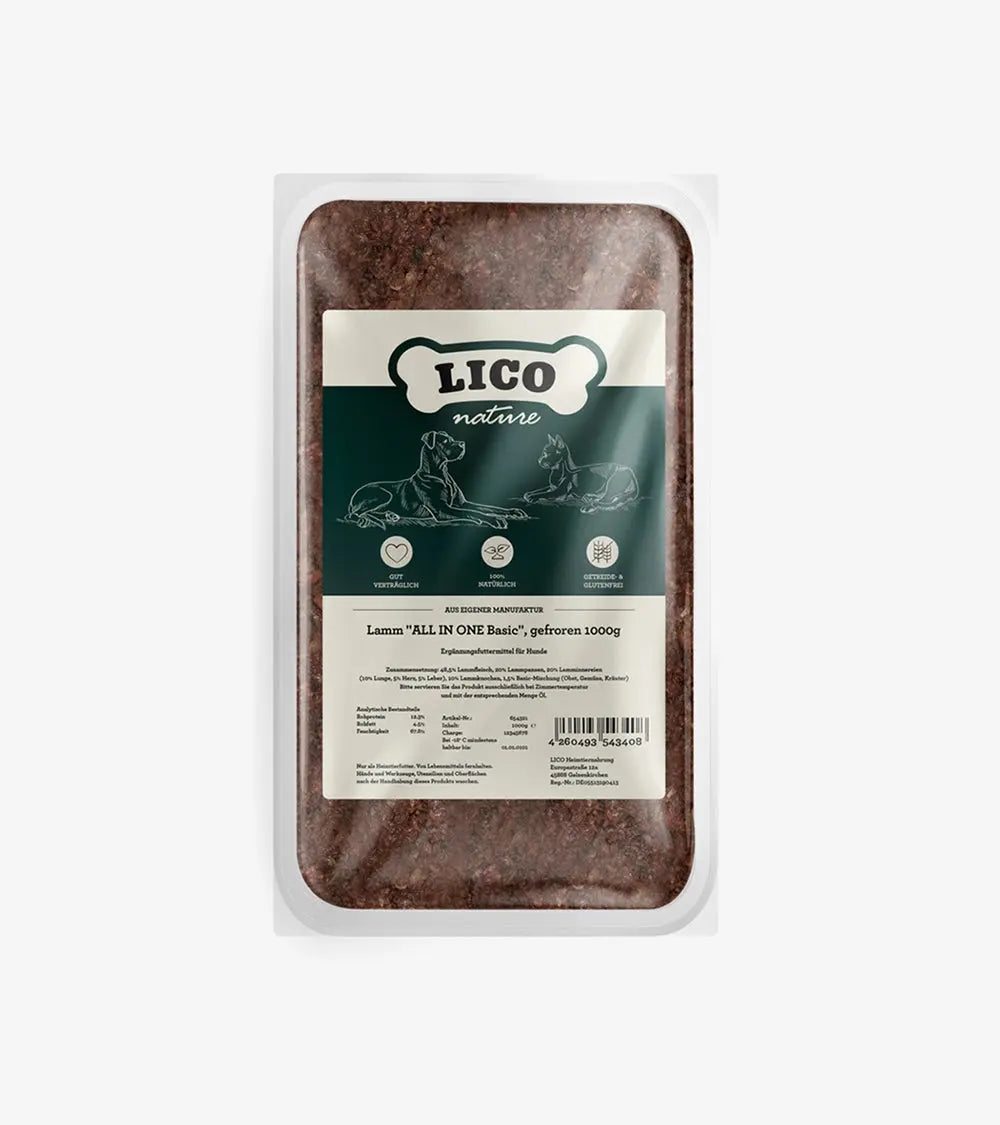 Lamb "All In One Basic" Menu
Package Size:
500g (2x250g)
Only 5 units left
Available Quantity for Pickup
loading...
⚠️ Important Notice: This product sells out quickly. The stock level In-store and Online may be vary.
Pickup available at Human & Pets Limassol (201)
Usually ready in 4 hours
Lamb "All In One Basic" Menu
500g (2x250g)
Human & Pets Limassol (201)
Pickup available, usually ready in 4 hours
Vasileos Konstantinou 58
3076 Limassol
Cyprus
+35725256065
Human & Pets Nicosia (101)
Pickup available, usually ready in 4 hours
Vyzantiou 11, Strovolos
2064 Nicosia
Cyprus
+35722262121
A high-quality BARF meal, created to meet all the nutritional requirements of your dog. Made entirely from fresh meat, vegetables, fruits and herbs, it offers a highly digestible, flavourful and energy-dense food, full of essential amino acids, vitamins and dietary macronutrients.
This menu contains 98.5% high-quality lamb meat, offal and bone, with biologically appropriate vegetables, nutritious oils and minerals. The combination of these premium ingredients provides the essential nutrition dogs need for optimal health and well-being.
All in One Basic = Muscle Meat + Bones & Cartilage + Offal + Lico Basic Mix (Freeze-Dried Fruits, Vegetables, Herbs)
The product line "All in One Basic" describes a balanced selection of meat of the finest quality, nutrient-rich offal and calcium-containing bones from the respective protein sources, making it an excellent choice for BARF Model diet or Prey Model Raw (PMR) diet.
98.5% Lamb Meat, Lamb Tripe, Lamb Lungs, Lamb Heart, Lamb Liver, Lamb Bones, 1.5% Lico Basic Mix (Jerusalem Artichoke, Eggshell Powder, Algae Lime, Linseed, Ground Carrots, Aronia Berry Pomace, Apple Pomace, Beetroot, Brewer's Yeast, Seaweed Meal, Malt Seeds, Grape Seed Extract, Birch Leaves, Dandelion, Nettle, Milk Thistle)
Lamb: provides a rich supply of high-quality protein and is naturally rich in essential fatty acids such as Omega-3 which promote the health of the skin and coat whilst also providing a source of energy. Lamb is also very rich in Niacin, Vitamin B12, Zinc and Selenium, which all contribute to optimal bodily functions.
Green tripe: is the stomach lining of ruminant animals such as cattle, lamb, and goats. Their digestive system is complex, as their stomachs have four chambers that systematically break down grass with digestive enzymes, gastric juices and amino acids. These enzymes, gastric juices and amino acids are very nutritious for dogs and cats as they contribute to a pet's own digestion and the health of other body functions.
Green tripe also contains Lactic Acid Bacteria, known as Lactobacillus Acidophilus, which is the main ingredient in probiotics and promotes stomach health. It also has the perfect ratio of calcium to phosphorus (1:1), with the lower phosphorous content being ideal for dogs with liver and kidney problems, and also is a good source of manganese! Tripe is considered a complete protein source for dogs, meaning that it contains all 10 of the essential amino acids that dogs need to consume as part of their diet.
| | |
| --- | --- |
| Serving Size | 100g |
| Moisture | 62.20% |
| Protein | 15.20% |
| Fat | 16.80% |
| Ash | 1.30% |
| Fibre | 0.30% |
| Calcium | 0.13% |
| Phosphorus | 0.18% |
*Disclaimer: every attempt has been made to ensure that the nutritional information provided is an accurate representation of an actual or average as fed analysis of this product.
All ingredients are processed in Germany in a human-grade food processing facility. They are non genetically modified and free of any chemicals and preservatives. All meat is hormone and antibiotic free.
Suitable For: Dogs
Life Stage: Puppy, Adult, and Senior
Package: 1kg and 500g
Country of Origin: Germany
Manufacturer: LICO Nature
Best before 12 months from the batch date on the packaging. Once defrosted, refrigerate and use within 4 days. Not for human consumption.