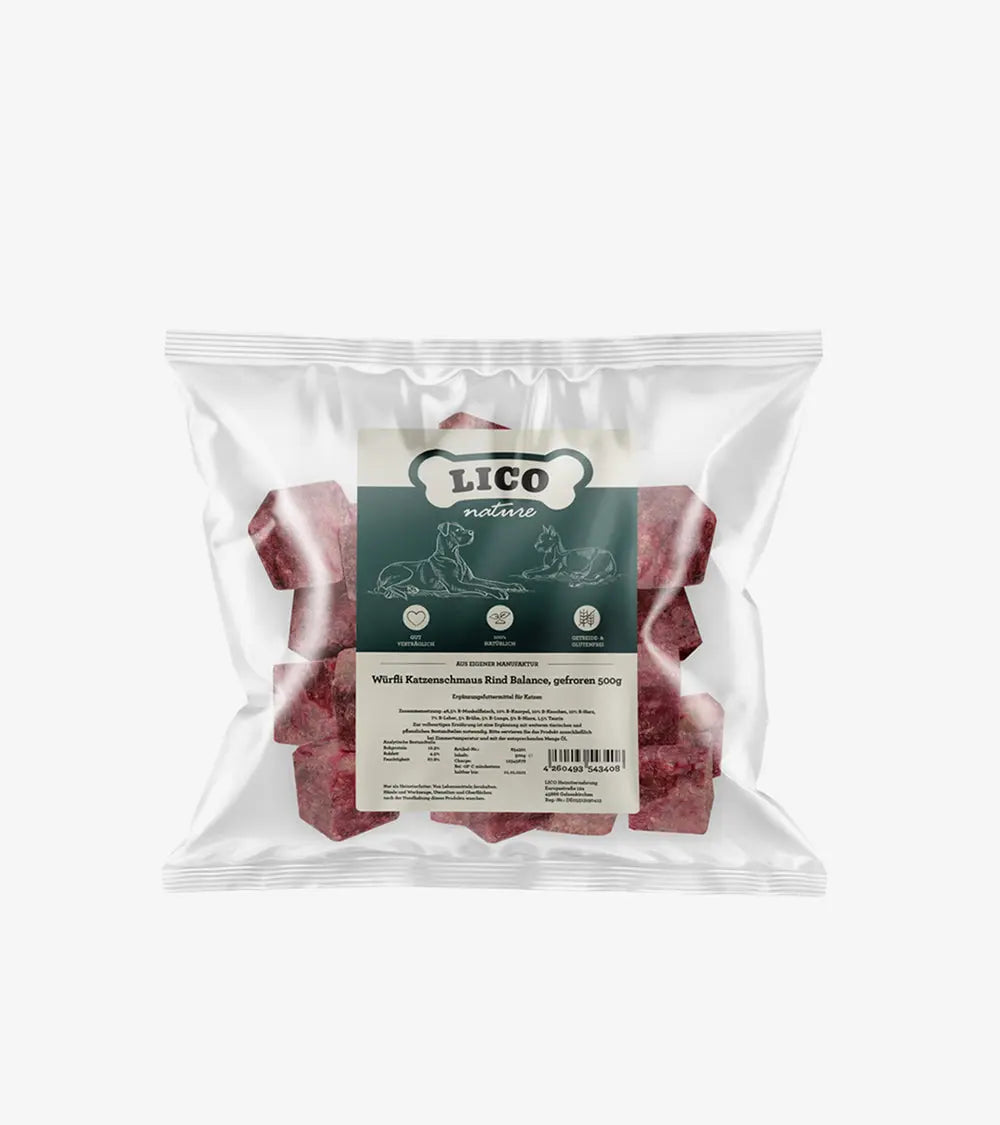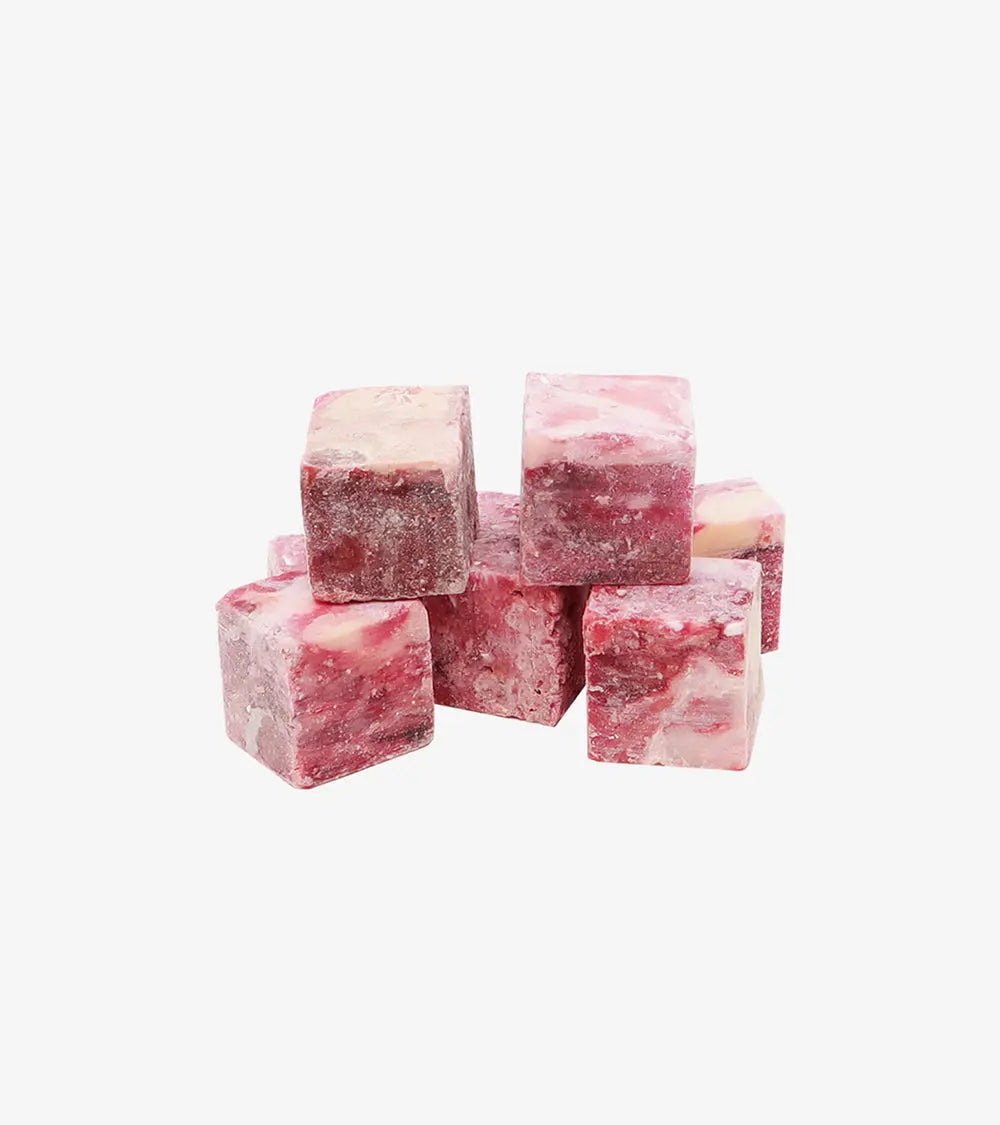 Würfli Cats | Beef "Balanced" Menu
In stock
Available Quantity for Pickup
loading...
⚠️ Important Notice: This product sells out quickly. The stock level In-store and Online may be vary.
Pickup available at Human & Pets Limassol (201)
Usually ready in 4 hours
Würfli Cats | Beef "Balanced" Menu
500g
Human & Pets Limassol (201)
Pickup available, usually ready in 4 hours
Vasileos Konstantinou 58
3076 Limassol
Cyprus
+35725256065
Human & Pets Nicosia (101)
Pickup available, usually ready in 4 hours
Vyzantiou 11, Strovolos
2064 Nicosia
Cyprus
+35722262121
A high-quality BARF meal, created to meet all the nutritional requirements of your cat. Made entirely from fresh meat, it offers a highly digestible, flavourful and energy-dense food, full of essential amino acids, vitamins and dietary macronutrients.
This menu contains 98.5% high-quality beef meat and offal, supplemented with 1.5% taurine. The combination of these premium ingredients provides the essential nutrition cats need for optimal health and well-being.
Cats have high requirements for protein and the amino acids that protein is made of. Specific essential amino acids such as taurine and arginine, and fatty acids such as arachidonic acid, are imperative for a cat to consume in their diet. These nutrients can only be found in meat. Carbohydrates, including grains and vegetables, are not naturally part of a cat's diet, so cats are not biologically designed to consume or digest these ingredients. All the nutrition a cat requires can be found in raw meat.
Innovative Feeding Solutions
Würfli range (meat cut in practical cubes) is part of our innovative approach to raw feeding. Maintaining our uncompromising approach to canine and feline health and happiness, our Würfli range contributes to a wholesome raw diet that promotes overall health for pets.
Balanced = Muscle Meat + Bones & Cartilage + Offal
Beef Muscle Meat, Beef Cartilage, Beef Bone, Beef Heart, Beef Liver, Beef Broth, Beef Lung, Beef Kidney, 1.5% Taurine
Beef: is considered a complete protein as it contains all the essential amino acids that dogs need to consume in their diet in order to promote optimal bodily function. Beef is also a great source of B vitamins, zinc, and iron.
Beef heart: is a very concentrated source of the supernutrient and Coenzyme Q10 (CoQ10). Coenzyme Q10 (CoQ10) is necessary for the basic functioning of cells, as well as for optimizing the heart's rhythm. Beef heart also contains selenium, phosphorus, and zinc, along with essential amino acids that help build muscle, store energy and boost stamina and endurance. The heart also contains twice as much collagen and elastin as regular meat, which is essential for healthy joints.
| | |
| --- | --- |
| Serving Size | 100g |
| Moisture | 69.70% |
| Protein | 18.90% |
| Fat | 8.30% |
| Ash | 2.10% |
| Fibre | 0.30% |
| Calsium | 0.36% |
| Phosphorus | 0.35% |
*Disclaimer: every attempt has been made to ensure that the nutritional information provided is an accurate representation of an actual or average as fed analysis of this product.
All ingredients are processed in Germany in a human-grade food processing facility. They are non genetically modified and free of any chemicals and preservatives. All meat is hormone and antibiotic free.
Suitable For: Cats
Life Stage: Kitten, Adult, and Senior
Package: 500g
Country of Origin: Germany
Manufacturer: LICO Nature
Best before 12 months from the batch date on the packaging. Once defrosted, refrigerate and use within 4 days. Not for human consumption.